Featuring The World's Most Advanced Tanning Systems in Northern VA!
Centreville VA Tanning
Sun Bed Tanning and Sunless Spray Tanning Versa Pro available at Centreville VA location with the following equipment:
Matrix 33
Saturn High Pressure Stand Up
Excellence 800
Orbit Onyx
Bronzing VHO Bed & Stand Up
Versa Pro Heated Spray Tanning
VIP Gold Level 1
Fairfax VA Tanning
Sun Bed Tanning and Sunless Spray Tanning available at Fairfax Station VA location with the following equipment:
VIP Gold Level 1
Bronzing VHO Beds
Saturn High Pressure Stand Up
Norvell Auto Revolution Spray Tan
Ergoline Aventguard
Soltran Flirt
Tan America Catalina
EQUIPMENT
Soltron Flirt
A hot date is waiting for you: the Soltron Flirt Turbo Plus will astound you with its charm! 40 flirty Soltron VHP 15 or VHP 20 high-tech lamps will get things started as 3, 400-watt PSR facial tanners heat things up and the ultimate Soltron foot fan delivers a kick strong enough to knock your socks off! This model will wrap you in its crescent tanning shell as it caresses your body with an attractive tan. With its sexy-cool blue and yellow flirt design, this Flirt is definitely what you've been dreaming of.
Matrix L33:
The Ultimate High Pressure Tanning Experience! This cutting edge bed allows one to achieve a level of tanning never before possible. Surrounded by the sun, almost suspended in mid-air, your tanning experience will be luxurious and satisfying. In 15 minutes or less, you will achieve a deep, dark tan unequaled by anything in the tanning world.
Saturn:
The strongest high pressure standup available! The world's first and only 360º high pressure unit utilizing parabolic reflectors with vertical lamps. The Saturn is 99% UVA ray, equipped with a motorized, adjustable facial tanner, and will give you a great tan in just 12 minutes.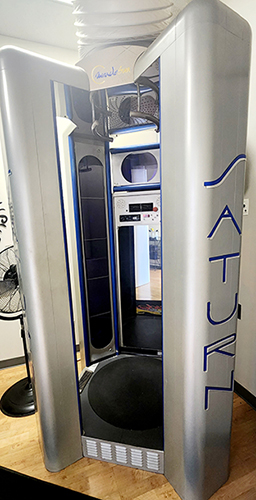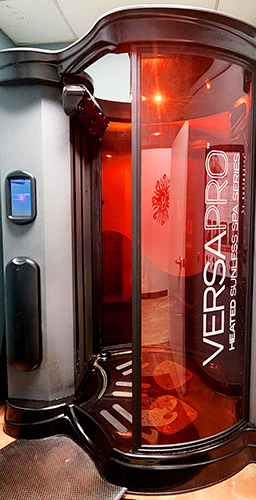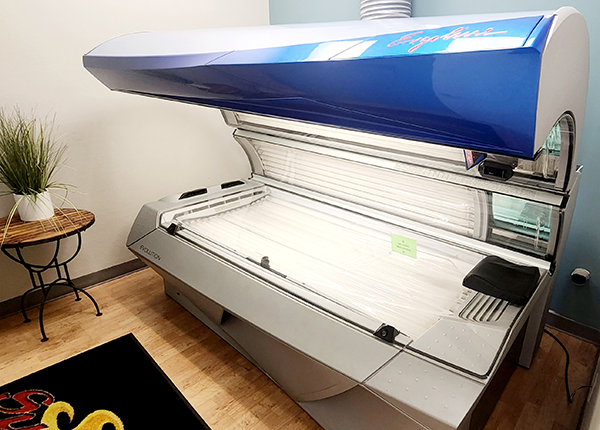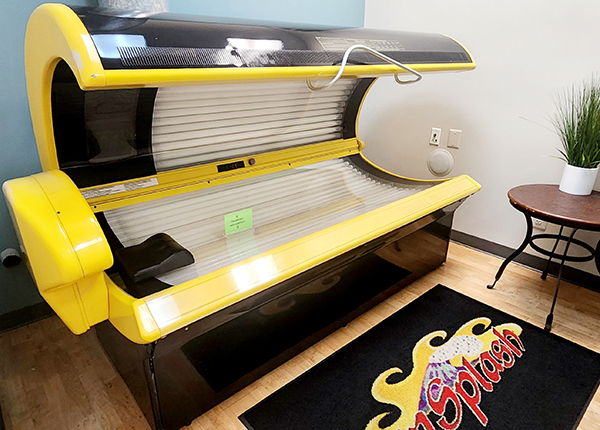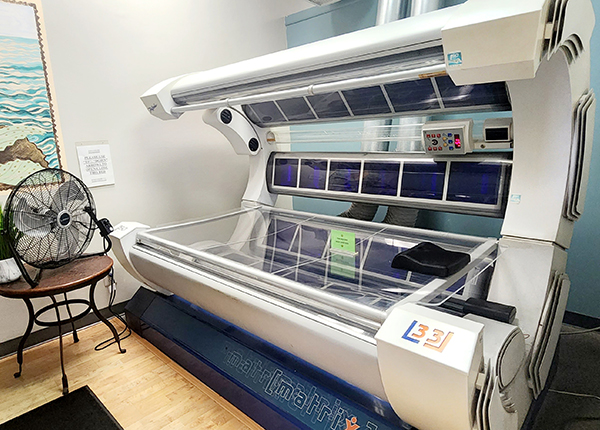 Ergoline Excellence 800:
The Ergoline 800 benchmark of excellence: the Excellence series is in a class of its own when it comes to UV power output, styling, ergonomic design, quality and ease of use. The 800 includes Balanced Tan for a more homogeneous distribution of the UV light and for consistent UV intensity.
Orbit Onyx:
This highly advanced medium pressure tanning system delivers twice the color in half the time of a conventional tanning bed. Forty five bronzing bulbs and four high pressure facial tanners deliver 11,000 watts of tanning power.
Bronzing VHO Beds & Stand-ups:
These very high output tanning systems deliver amazing results in less time and a tan that lasts longer than that of a conventional tanning unit.
VIP Gold Level One:
This industry favorite provides a incredible tanning experience. Equipped with a built in cooling system, sound system and a CD player for your personal comfort and pleasure.
Prepare:
Make sure to exfoliate your skin in the shower or bath before going to the tanning bed, and apply plenty of lotion once you're done. Using indoor tanning lotion is also a good idea as it can enhance your results. You can find a variety of tanning lotions in stock and available for purchase at the front desk.
Bed tanning Aftercare:
To extend the longevity of your tan and avoid overly frequent tanning, which can cause harmful UV damage to your skin, consider using a self-tanner or a tan extender, available for purchase at the front desk.